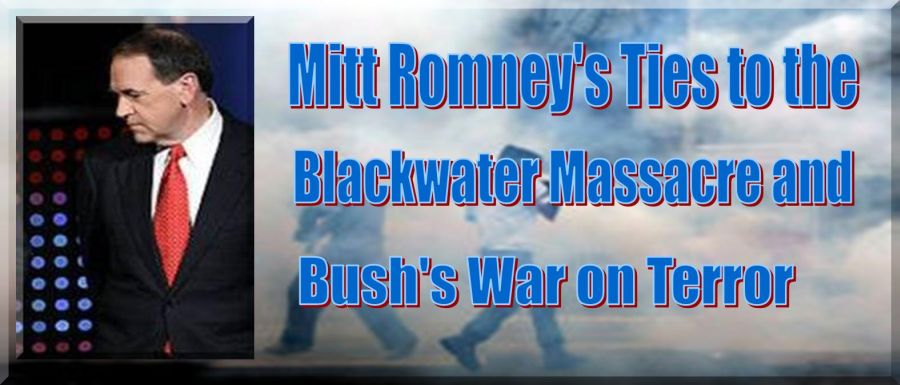 Mitt Romney Served on the Homeland Security Advisory Council of Corruption: "Buried in what would otherwise have been a dry summary of financial audits and inspections the Department of Homeland Security Inspector General's semiannual report to Congress (PDF) also contains dozens of reports of misconduct and criminal activity perpetrated by DHS employees themselves. And nowhere is the corruption more evident than within Immigration and Customs Enforcement where the reports of crime conducted by ICE employees eclipse the management report summaries. Our investigations resulted in 321 arrests, 333 indictments, and 243 convictions." (Inspector General Richard Skinner wrote in the report's cover letter.) This is an achievement Mitt Romney can really be proud of.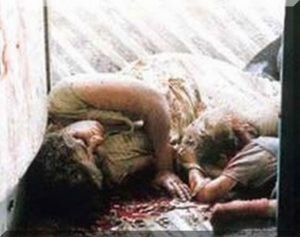 The Connection Between The Bush Family And Mitt Romney: Mammon

AP, Networks mum on Romney-Blackwater Connection

Mitt's Mercenary Ties to Murder

Democrats Thank Romney for Health Care Legislation

MASSACHUSETTS GOING BANKRUPT OVER HEALTHCARE

Romney Supporters Stuffing Ballot Box

Ex-Blackwater Workers Get Probation

Blackwater Drops Tear Gas Grenades on Iraqis

Iraq Must End Immunity for Security Contractors, Group Says

Watch Romney Staffers Rig CPAC Straw Poll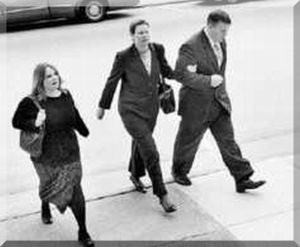 "US District Court Judge Louise Wood Flanagan of the Eastern District of North Carolina Thursday sentenced two former Blackwater USA [corporate website; JURIST news archive] employees to three years probation for possession of stolen firearms in exchange for their continued cooperation with a Justice Department investigation into whether the private security firm was smuggling weapons into Iraq."Justice Legal News and Research

"While troops risk their lives on the booby-trapped, dangerous streets of Baghdad, U.S. military officers above the rank of colonel; U.S. embassy personnel. and most Iraqis associated with the government, NEVER venture far from the safety of the villas they live in;... walled enclaves in the Green Zone, guarded by trigger-happy Blackwater mercenaries."



"When the top brass are ordered out of their protective enclaves by the White House for photo ops to prove 'how the surge has made the streets safe', they are surrounded by a protective wall of heavily armed troops and tanks. After the photos are taken with smiling kids bribed with candy, they are quickly whisked back to the security of the Green Zone,... replete with U.S. taxpayer provided MacDonald's, coffee shops, a supermarket with imported food, night clubs, and other necessities"

"After years of war, the loss of over 3,000 young American lives and the expenditure of billions of dollars... The Green Zone is the ONLY tiny spot that can be called 'safe' for the invaders and plunderers of this sad, war-torn country." Unconfirmed Source Reports

"The Dept. of Justice Cover-up of $300 million in Fraud connected to Mitt Romney. The resignation of esteemed parties does not cease, as Debra Yang of President Bush's Corp Fraud Task Force also resigned without providing any remedy. A feat that is only made pale by the fact that it is now discovered that the US Attorney for Delaware Colm F Connolly was a partner of the law firm of MNAT. Colm F Connolly is now to be the Judge in Delaware District Ct position made vacant by Kent A Jordan. It appears it certainly is a great career move to refuse to investigate or prosecute one's former partner, associates and clients. Especially when the Presidential hopeful Mitt Romney owns one of the clients and has benefited from the malfeasance."

"Senator Craig, 62, paid a $500 fine when he entered his guilty plea on August 8 in Hennepin County Municipal Court in Bloomington, Minnesota according to state criminal records. CNN confirmed that Craig was sentenced to 10 days in jail but that sentence was stayed. Minnesota law defines disorderly conduct as brawling, disturbing a meeting or engaging in "offensive, obscene, abusive, boisterous, or noisy conduct." According to Roll Call the arresting officer alleged that Craig lingered outside a rest room stall where the officer was sitting, then entered the stall next door and blocked the door with his luggage. According to the arrest report cited by Roll Call Craig tapped his right foot which the officer said he recognized as a signal used by persons wishing to engage in lewd conduct. The report alleges Craig then touched the officer's foot with his foot and the senator proceeded to swipe his hand under the stall divider several times -according to Roll Call. At that point the officer said he put his police identification down by the floor so Craig could see it and informed the senator that he was under arrest before any sexual contact took place." How's this for good old fashion Christian values?

Senator Larry Craig says he has an affinity for and strongly supports Mitt Romney. This may be a beginning of a very special relationship. What kind of B.S. is this? Our elected officials never cease to amaze me. What a world!




Mormon's Religious Massacre: Mountain Meadows
Implicating religious authorities in the mass murder it was ordered by the church's prophet and president, Brigham Young. Brigham Young knew that the attack was imminent and, according to legend, sent the message "Brethren, do your duty." Bagley provides some circumstantial evidence in support of this assertion.

"If any miserable scoundrels come here cut their throats." (Brigham Young)

The Mountain Meadows Massacre was a crime committed without cause or justification of any kind to relieve it of its fearful character. When nearly exhausted from fatigue and thirst, the men of the caravan, were approached by white men with a flag of truce and induced to surrender their arms under the most solemn promises of protection. They were then murdered in cold blood. A group of men, variously described as Southern Paiute Indians (Mormons dressed as Natives or a combination of Natives and Mormons) deceived and attacked a group of 137 pioneers whose wagon train was traveling from Arkansas, through Utah, and on to California. Under a flag of truce they were disarmed and then slaughtered in cold blood. In all 120 men women and children of the wagon train were killed. 17 children under the age of 7 were considered "too young to tell" their lives were spared.




White Mormon Hates Blacks & Barack Obama

Mormon Prophet:Blacks Represent Satan On Earth

A Mormon Explaining How Blacks are Cursed

Mormon Prophet Testifies Blacks are EVIL

RITUALISTIC CHILD ABUSE AND THE MORMON CHURCH

New York Times

Is history repeating itself? Vengeance Blackwater Style

Mitt Romney's Faith

The man of many faces, Mitt Romney, takes the religious right and the evangelical morons for a ride.

Evangelicals for Mitt Romney

Illegal Immigration Hardliner Mitt Romney Hires Undocumented Workers To Tend His Lawn (Reported the Boston Globe)

Letter to George W. Bush



Home Page
Federal Income Tax is Illegal
Al's Bullshit for Morons
Religion is Bullshit
Living in the Waste-land (Government Brutality)
Ted Kennedy's last Brain Cell
Bush is Evil
mailto:martin54nm@yahoo.com
Add Me to the Internet